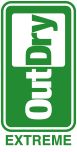 .
INTRODUCING
OUTDRY™ EXTREME ECO

100% RECYCLED FABRIC

Recycled from 21 plastic bottles.

NO PFCs INTENTIONALLY
USED IN THIS PRODUCT

(May contain trace amounts)

DYE-FREE FABRIC

Dye-free fabric saves over 13 gallons / 51 liters of water compared to standard, dyed jacket.

DRY WICKING FABRIC

Advanced moisture management.

OUTDRY EXTREME
No wet out.
Ultimate breathability.

RECYCLED TRIM

Labels, toggles, zipper pulls, thread and eyelets made from 100% recycled content.

Conventional rainwear uses a fabric on the outside that is laminated to a thin waterproof membrane. The outer fabric requires a PFC-based Durable Water Repellent (DWR) treatment to cause water and dirt to bead up on its surface. However, PFCs are bio-accumulative in wildlife and humans and persist in the environment. In spring 2016 we introduced OutDry Extreme technology without any additional outer fabric, eliminating the need for PFC-based DWR without compromising performance.
*May contain trace amounts



FORM STRONG BONDS
The carbon-fluorine bond found in PFCs treatment is one of the strongest bonds known to man.

USED IN WATERPROOF MATERIALS
Durable Water Repellent (DWR) treatment allows otherwise permeable materials to repel water.


DON'T BREAK DOWN
PFCs don't break down readily in the environment and have been found to be bio-accumulative.

OUTDRY™ EXTREME ECO INSULATED
For outdoor activities a down jacket can be a real bonus in the comfort stakes. That's why Outdry™ Extreme Eco now comes in an insulated version to keep you warm thanks to the 700 fill power goose down insulation.
In line with our promise, this insulated earth-smart raingear also keeps you protected from the rain with its waterproof fabric, while maintaining absolute breathability.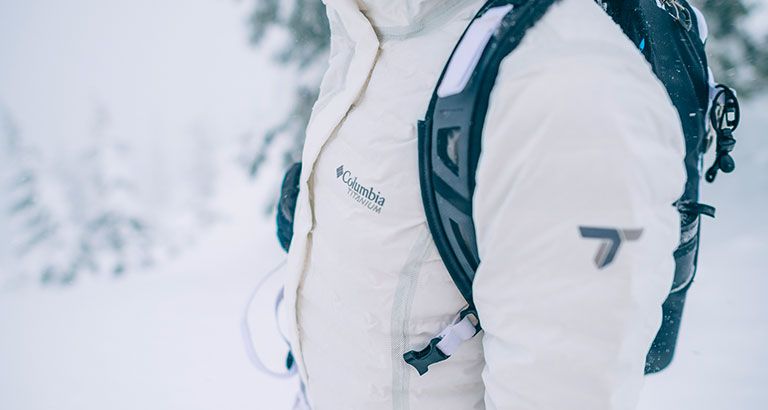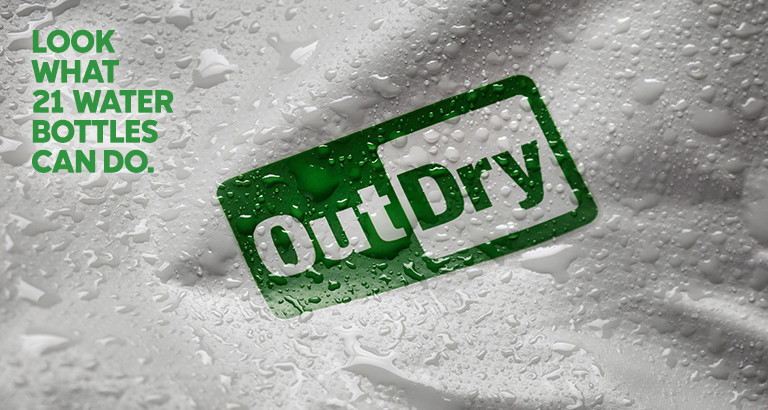 The main fabric of the jacket is 100% recycled polyester, and is made from approximately 21 recycled bottles. Additional trims and components also contain recycled content. Extracting virgin raw materials to make polyester is energy intensive and requires dependency on oil. Using recycled polyester helps reduce energy needed for oil extraction and reduces landfill burdens by keeping plastics out of waste streams. 


The garment fabric is not dyed. Eliminating the fabric dyeing process reduces water, energy, and chemicals traditionally used in the manufacturing process and saves approximately 51 Litres per jacket. This is an 80% savings from the dyeing stage of traditional dyed fabric. Also, since the surface of our jacket is not a textile that easily traps dirt and stains, it can in most cases simply be wiped clean. Reducing the need for washing potentially reduces the water and energy needed to clean the jacket, minimizing its overall environmental impact.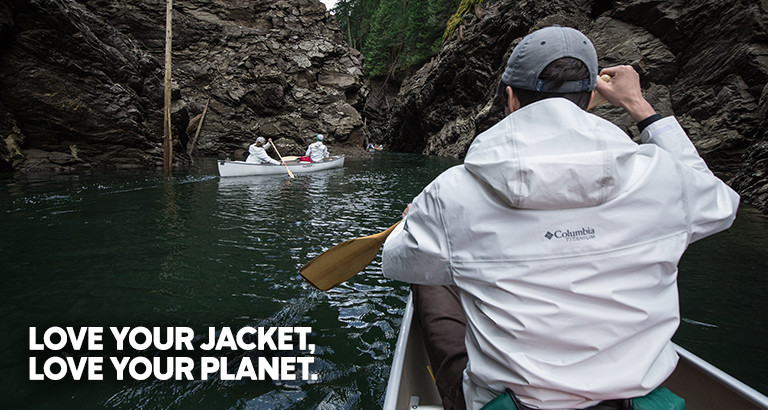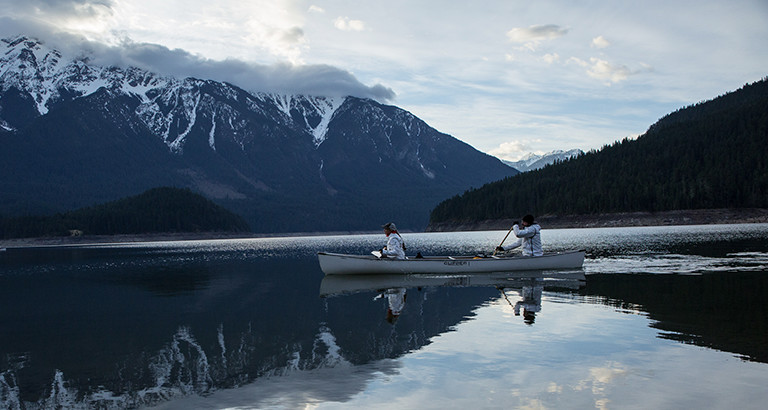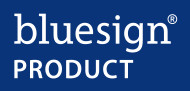 bluesign® product labeled textiles contain components that are resource saving and sustainably manufactured according to the bluesign® criteria. That includes not only fabrics but also accessories such as as zippers, buttons, buckles etc. Furthermore, the suppliers and manufacturers have been verified for their compliance with the bluesign® standards controlled by bluesign® experts.